Ok, strange happenings with my computer. It was just shutting off...For no apparent reason. Almost like it overheated, like a fan was out or something. Anyway...After it continuously shut down all night Sunday...I brought it in yesterday. Nothing is wrong with it. Hmmmmm....not really sure what that is all about.
Anyway, without a computer to search for yarn or blogs to read (I did get withdrawal shakes imagining what wonderful yarn was new at my favourite discount sites....) I knit "lucky" right front. I stayed up till 11:30 knitting and finished this morning while driniking "the other caffeine", tea. (how I made it through the morning without my coffee I 'll never know. I went to the grocery store to pick up cream before I picked up my computer...I will never run out of cream again!)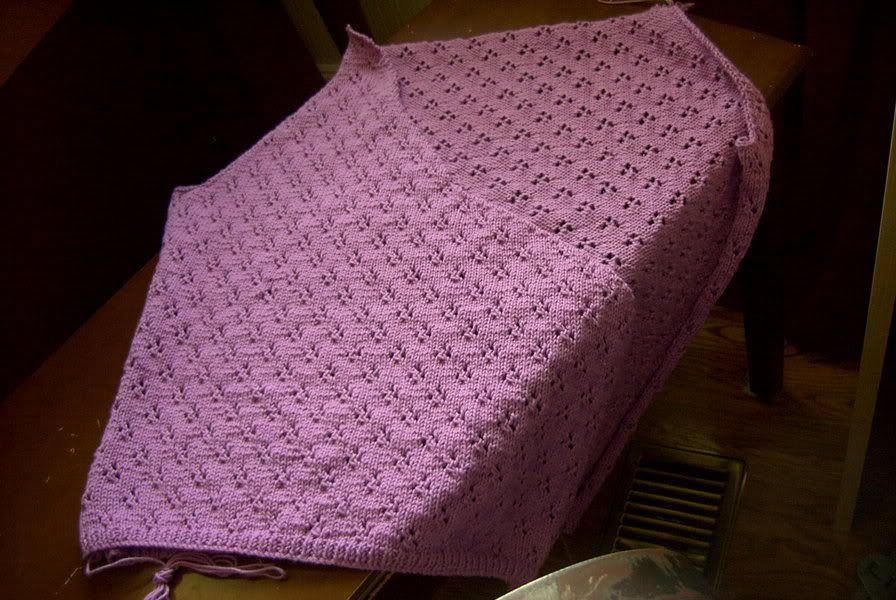 Here she is....this is more the colour than the picture in the post below.
I need to work on "hourglass" to get it finished. I did run out of yarn, even though I got an extra ball to compensate for the yardage mistake in the pattern. So thank you to Sylvia at
http://www.knitwerx.com
for sending me my yarn with the lovely thank you card:
"Hi Carolyn,
I hope your project is coming along beautifully!
Sylvia @ Knitwerx "

She is so nice and thoughtful...and even acknowledged my project that I am working on which I obviously ran out of yarn for. Excellent customer service!