Presenting....adult sweater #2....The "Lucky Clover Cardigan" of Stitch and Bitch Nation:
Although I can't stand pictures of my backside...here it is, only to showcase the cardigan!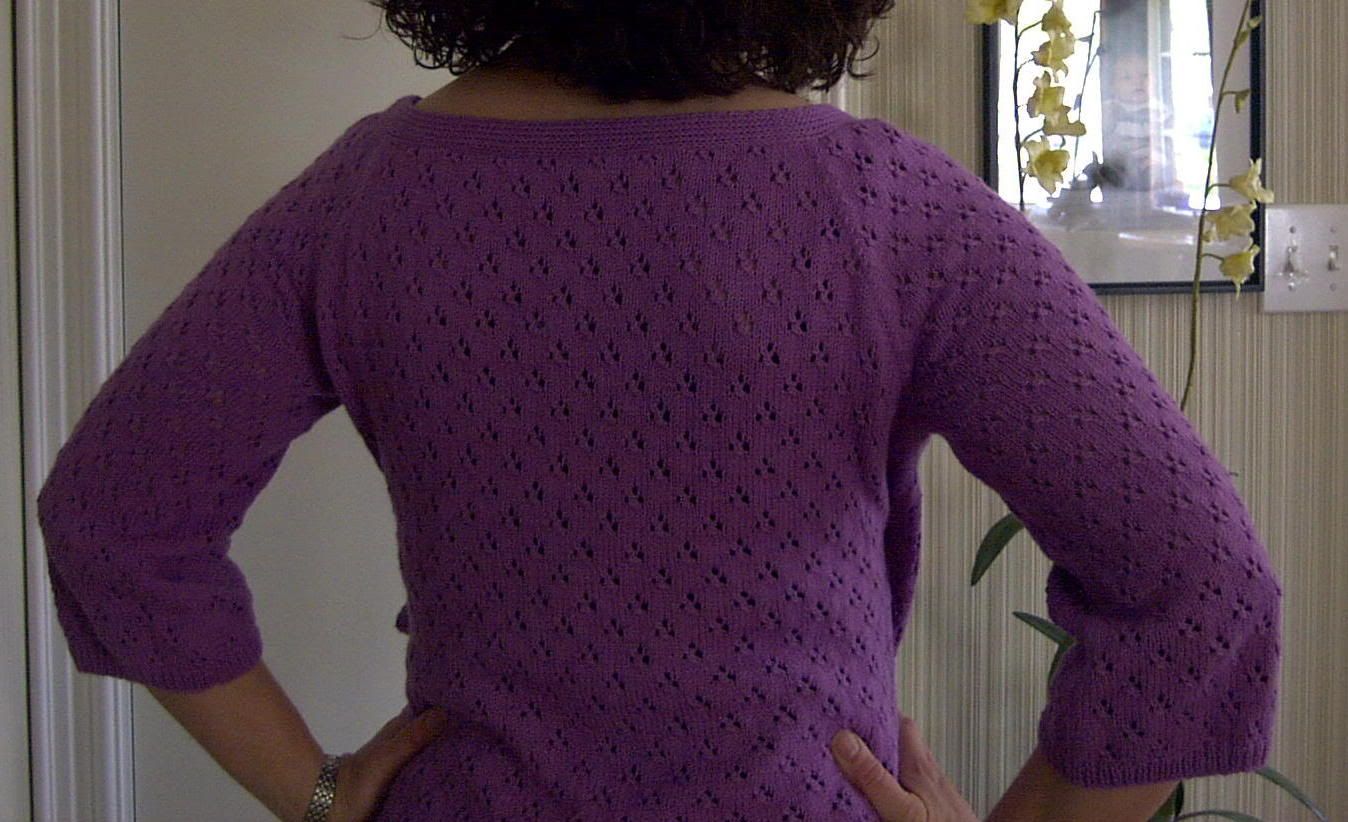 Yarn used:
Rowan 4 ply cotton (2 balls left from the 10! I could have done full sleeves!)
Thoughts on the yarn:
nice soft cotton...but still reminds me of the cotton dishcloth look. I came across many knots in this yarn, bad batch I guess. Atleast one a ball and you would start and new ball and come across a knot before the end of your row. Very annoying. I do like the 4 ply as crazy as that is...I like the thinner knits on me.
Start date:
March 31, 2005
End date:
April 28, 2005
Pattern thoughts:
Ok, this pattern is nice, but it does need some editting (Melissa the designer who happens to be in the KAL has admitted to this). There are left over stitches at the front decreases that you just kind of mask with the neckband. Here is a view of this problem:
The arm sizes are not proper in the larger sizes, I did have to make the arms bigger.
Pattern adjustments:
I co 98 sts for each arm, worked the rib then decreased every 12th row twice then every 21st row twice-90sts (it was late at night when I figured all of this...so don't ask!) Work until patt measures 12 1/2" for 3/4 sleeves. Then for the raglan cap when decreasing (I made the body the 40" finished bust size) dec 1 st every 4th row 8x then every 6th row 4x. BO rem. This gave me 14" arm circumference.
I am usually a step by step knitter but this pattern made you think alot, which is a good thing. I had to decide on the type of decreases/increases and where to put them.
All in all, this cardi was fun to knit. I love the clover pattern and I love wearing it!
Ok, it took alot out of me not to rip back and fix this, but I feel I must confess to a mistake. The perfectionist in me is dying here! There is a misplaced clover...I call it my lucky clover!
Second row down the shoulder...second one in from the raglan...
see it?! Man, that is going to bother me!
What do I start now? Hmmmmmmmm.....