Ok, we weren't really in Disneyland but my sister's house is pretty close! We went to Toronto for a visit and I just must say Christina's house is really crazy...but a good crazy. She has two little girls that she keeps busy with activities and events all day long. Playtime in the yard not only included the huge swing/slide/rope climbing combo but also she set up stations for golf, hoola hoop, tight rope(skipping rope) walking, ring toss, bikes, car ride, digging for worms in the garden, horse shoe toss, snacks...etc...etc...etc. I just chose a nice chair to knit in, of course! Inside, her basement is FILLED with toys...everything...now, they don't spoil their children and buy all this, these are all hand me downs. Everything from a room with the "kitchen station" and baby doll centre to another room with serious play. Little people, doctor, barbies (which thankfully my boys didn't fancy), trains, games, balls, basketball, chalkboard, plastic animals, tents, EVERYTHING you could imagine. Then she also blared kids music and blew bubbles the entire time.
My children cried all the way home.
We were able to hit many knitting stores, to check them out. I've got her back into knitting...and hopefully inspired her for more projects. Renee was with us, so we were three serious knitters on the prowl. We first went to a very nice, posh store with all the upscale brand name yarns and some serious "fiber snobs". We left empty handed. Then it was off to "linda's craftique". They were very friendly and helpful and I picked up some butterfly mercerized cotton...which may become "Ray". Then we went to two kitty cornered knitting stores. We of course chose "The Yarn Tree" with the "20-40% off all yarn today only" sign! I wish went went here first! There were some wonderful deals, but I do have a lot of yarn coming from internet purchases, so I behaved. I picked up some 4 season cotton, my first time with an acrylic cotton blend...hopefully will become a beautiful sweater for the boys.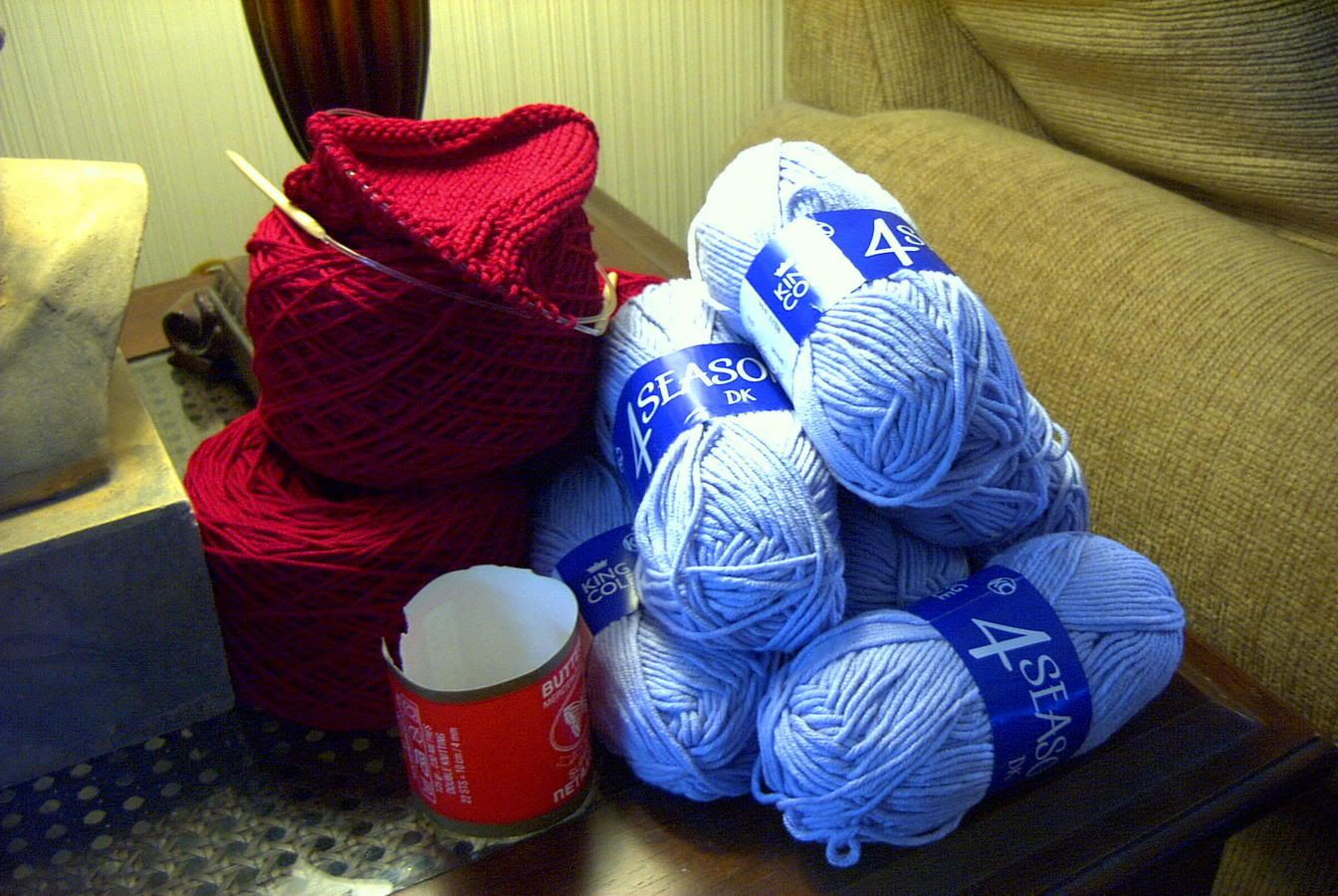 I did mange to do a little knitting while visiting. I worked on "Lucky's" sleeves and started the band for the neck. There seems to be problems for some knitters with attaching the band, so I decided to work on this to get ideas. Here are the sleeves, I am working at the same time...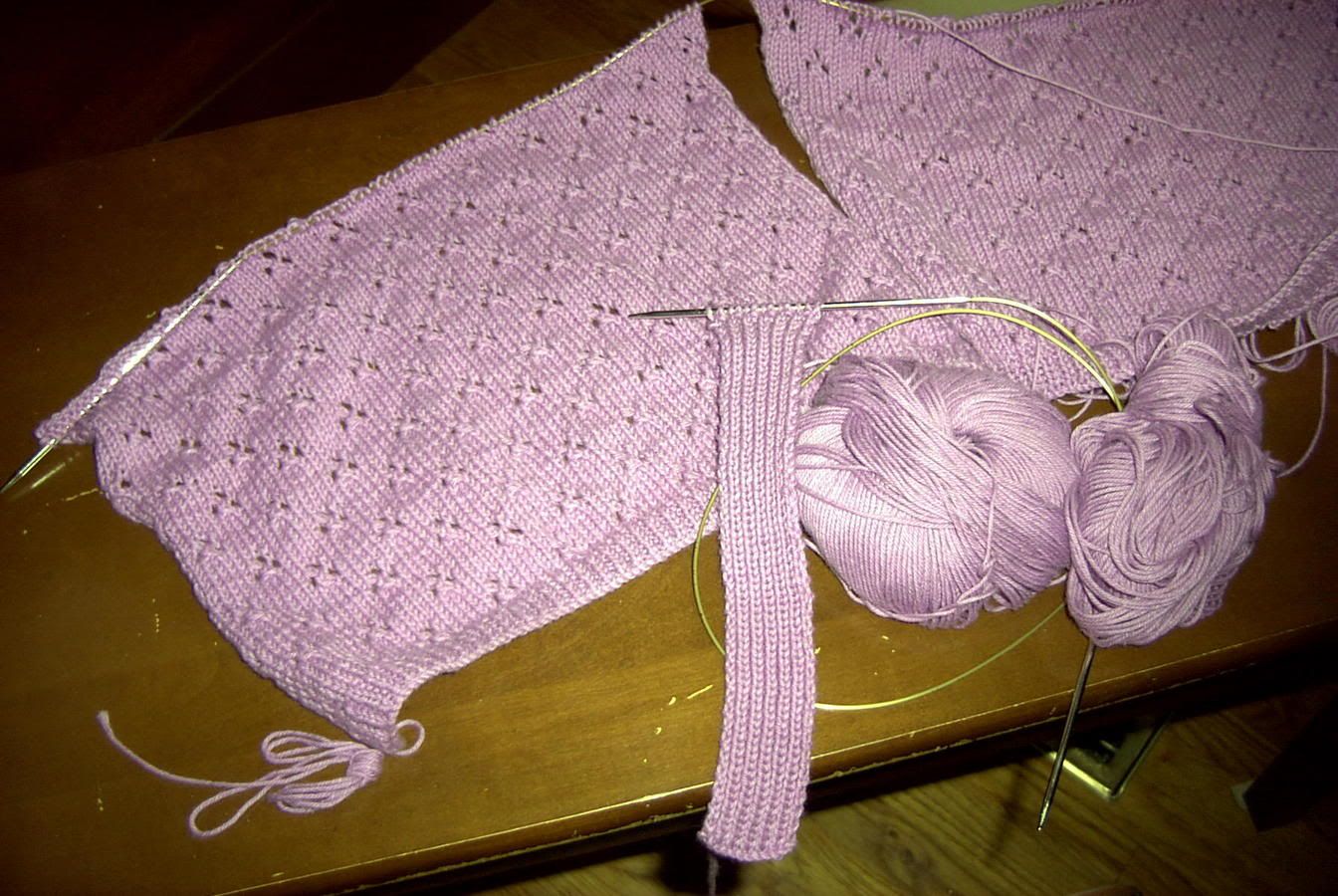 I also finished the first pattern repeat on "Hazel". It is really looking nice!
Rowan sent the "Frieda" poncho yarn kit, some lovely brown "cork"...that will not become a poncho. I'll probably do a scarf with it, we'll see.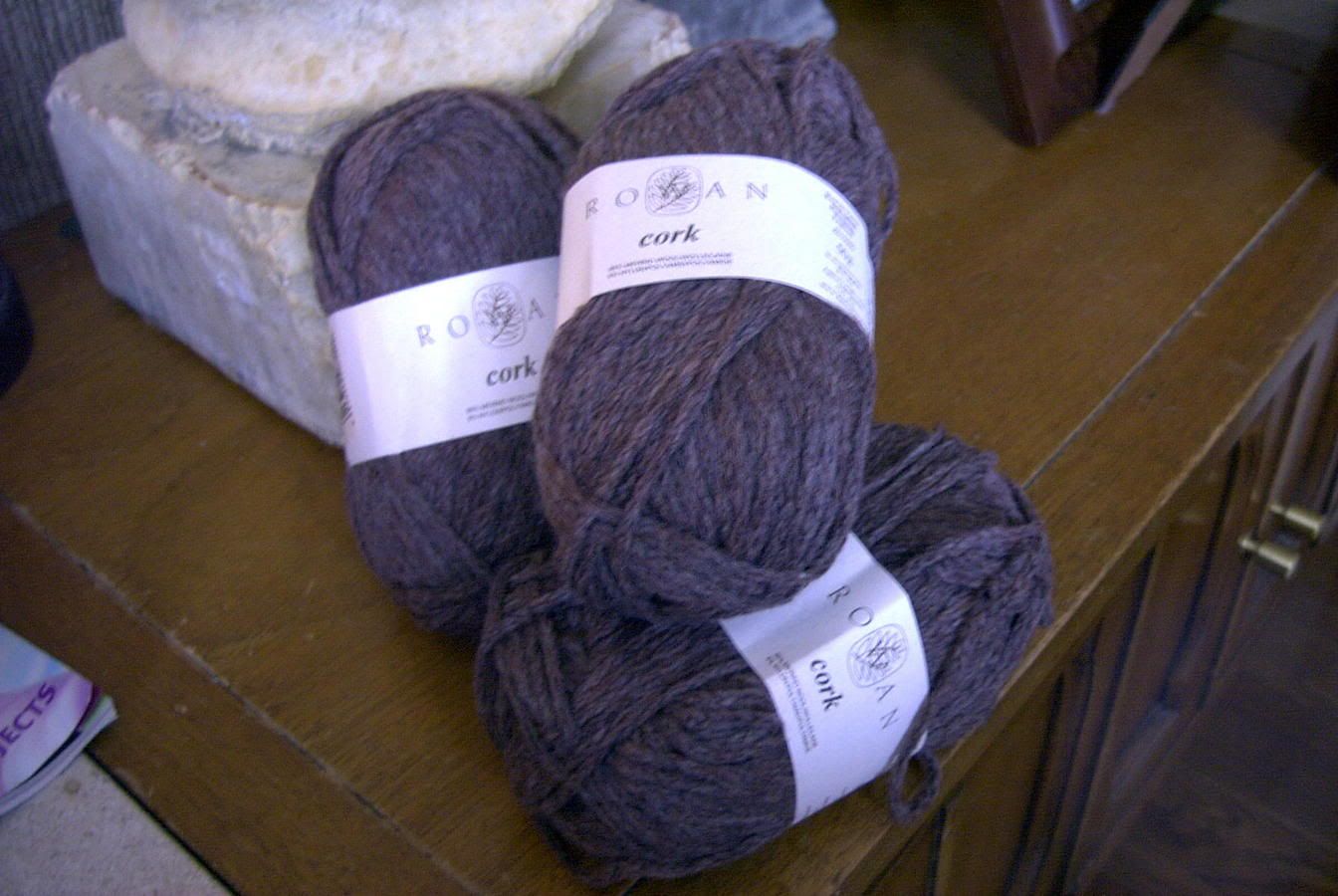 And I have joined the newly made "knitting and weight loss" ring. Of course, a trip to Christina's does mean weight gain...so I will start back on weight watchers now...the race is on!