Do you sometimes wonder why?
As I run out the door minutes before the bus is to pick up my son...
to walk PAST the perfectly good public school right outside my front door...
three blocks with two children, so he can go to a Catholic School...
to watch the bus that is to pick him up turn a street to early for the fourth time this year...
run home the three blocks to get them in the car...
drive miles to his school to drop him off late...
where there are no "kiss and ride" adults to take him into the school...
then two buses pull up behind me...
Can you believe the bus driver is *shooing* me out of the way!?...
Guess what the good Catholic mother did...
I just wonder why.
Anyhoo...some knitting.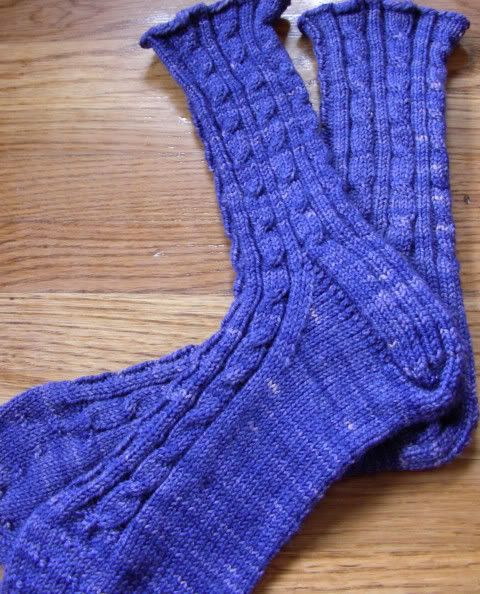 Started:
October 2, 2006?
Finished:
October 14, 2006
Pattern:
Rib and Cable Socks from IK fall 2005
Yarn:
Koigu, not sure the exact colour code. I really love this yarn. That was the last of it in my stash...I need more Koigu!
Needles:
Knitpicks US#2...I LOVE these needles.
Adjustments:
I shortened the cuff, for fear I would run out of yarn. I could have made it another inch though.
I really like the stretchy cuff on these. I know I have cast on with two strands for a shawl, but for socks it is great. I've tried to do the cast on around two needles and that doesn't work for me. Using two strands make a nice stretchy cuff.
These are a great pair of socks. I really love the pattern. It keeps your interest the entire time. I definitely will be making more of these.
A fabulous gift...for a knitblog friend.