Thank you so much for all of your kind comments of the two complete projects of 2006 thus far. I can see what projects get you going enough to comment...all of you silent readers! I love it!
So what is next on the knitting front. What has started the twitch, the endless search for yarn, the blatant forgetfulness of
incomplete sweaters
(ok, ok, I cast on the sleeves last night)...the
"I must knit this"!?
I have googled for knitters working on the current IK projects. Not many out there. Why? Am I the only one loving this issue. At first I flipped through with nothing. Not a twitch. Then I looked closer. I had the yarn for the Ballet Wrap...so I knit it. Success there.
What about the
Gull Stitch Cardigan
? No one? Not a taker? It's a cardigan...so versatile. It is another chunky knit...quick knits people. The design is so different...does up on the side with a hidden zipper. Interesting stitch pattern. No one? WELL, I am searching for yarn. I love it.
The
Belted Wrap
. Come on. It's gorgeous. Love it. It is the 21 balls of Zara that scares you...the lace pattern? I know, it will break the bank. I am searching for zara on sale or a sub. I will knit this...it may not be complete until next winter, but I love it that much.
The
Embossed Leaves Socks
are a given. Although I find that koigu is fabulous. I love my socks knit in koigu...but I would have to take out a second mortgage to keep making them in that yarn. I have a lovely black merino/cotton blend I am thinking of using from the stash.
I really like
Knitty's Shedir hat
. It would make a fabulous gift for someone and I do have some Rowan Calmer in the stash.
Tev Durhams
Lace Leaf Pullover
is gaining my interest.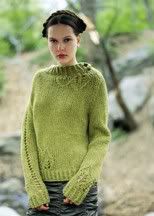 Another quick knit. Interesting design with some grafting. What about the yarn? Any thoughts. I could make this for myself but my SIL would look fab in it...may Christmas knitting will start sooner than later!
Let's not forget about Debbie Bliss. I love her. She has some beautiful designs in her new Simply Soft book. Many chunky knits...there seems to be a trend here. This
Asymmetric Sweater
is gorgeous. My mom would look great in it...another potential Christmas knit. Elann.com has some DB Chunky Merino on sale.
She also has this really cool looking
Boa
Scarf. Very tempting.
I picked up a copy of
WrapStyle
. I do love the lace shawl and poncho in it. I know poncho's are so "out" but I think it could pass.
Other than all of that...I need a pair of
Jaywalkers
for myself...and I have swatched for
this simple cardigan
. The only fear of it is boredom. That's a lot of ribbing.
So what are you itchin' to knit?