So the sockapal2za sock and I went on a little trip this weekend...
Off to see the
Harlot
in London at the
LYS
. My sister, a fellow knitter...maybe not as passionate about knitting yet...and my mother...who read the book the night before we went...came along for the fun!
Can I just say that it was hot...not just hot but also humid. I'm talking hair-fuzzing-practically-raining-you-could-ring-your-clothes-out humid. I'm sure Stephanie was glad to see us other fuzzy haired ladies in the audience!
As soon as we sat down, mom started chatting with the lady sitting next to her who was knitting a sock. Turns out she was knitting a
sockapla2za
sock! What are the odds? She claims the sock she was knitting was not for me...hmmmm...
I don't know...
Cara
was great. It was nice to meet another blogger in person. Here we are with our sockapal2za socks...
Notice the crazy fuzzy hair I am sporting!?
Stephanie was as hilarious in person as she is in her book. Everything she said was all to familiar. I am really looking forward to her next book. It was such a diversified group of knitters who came out to meet Stephanie. Young, old, middle aged, women, men and even a Harley rider! She claims to get strange looks when she sits and knits on the hog! Can't understand that! Here I am with the Harlot (couldn't take the hair anymore...had to tie it up) I am sporting the infamous
birch
on my shoulder...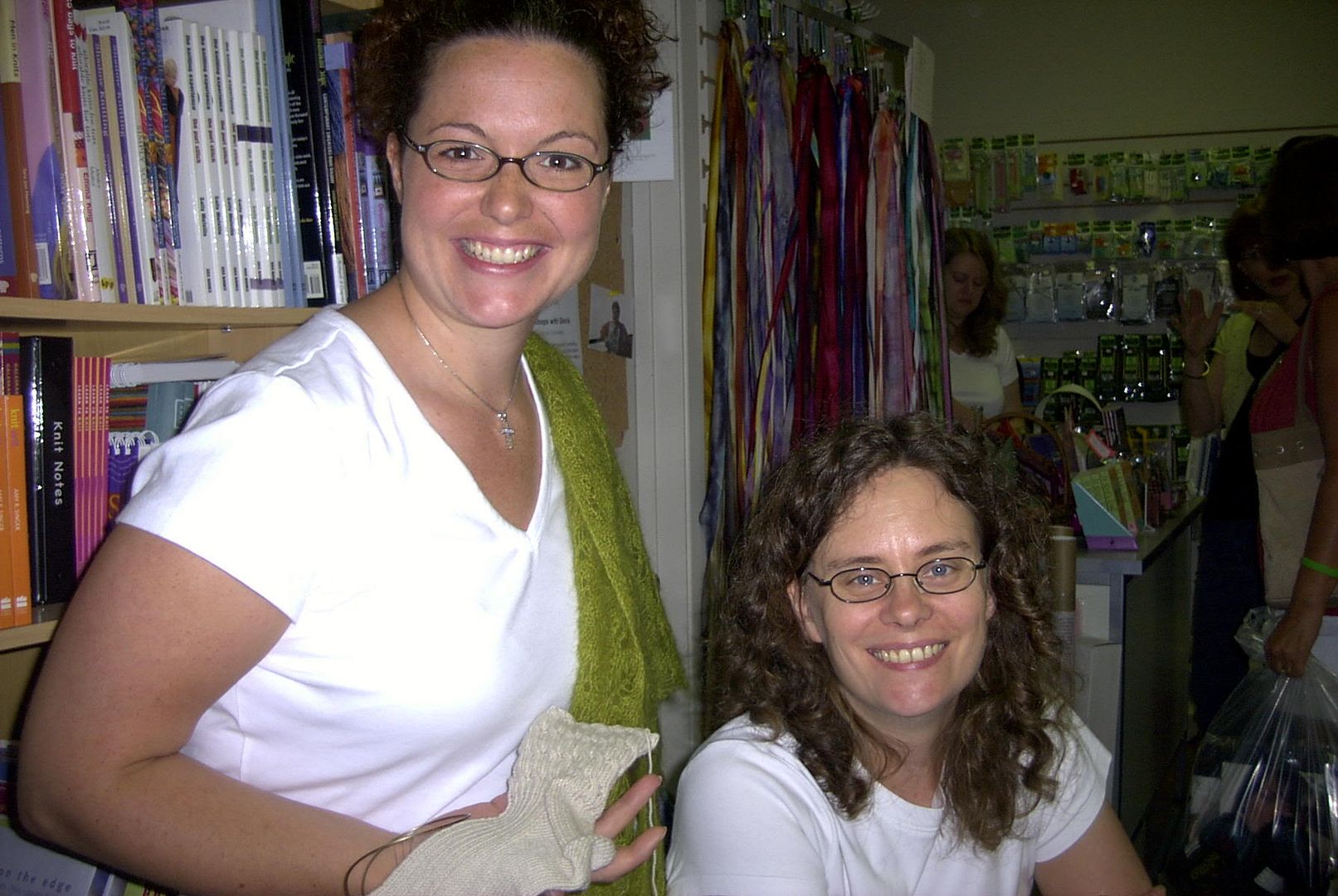 May I say Stephanie, you look fabulous in this photo...I on the other hand, look very much like a crazed knitter.
Look sockapal2za pal...your sock met The Harlot!

It was a great time, so nice to meet some other knit bloggers.
Of course...my sock pal now has one completed sock!