I can't say I remember anyone teaching me how to knit. I do remember trying when I was much younger...my Meme knit, maybe she taught me how once...my mother knit a bit...maybe she taught me...my Grandmother knit and still knits a bit...maybe it was her...I don't really know...
A true Martha follower...I saw a lesson in one of her baby magazines. It was simple, like way too simple garter stitch squares attached to make a baby blanket and sweater. I was interested but not really in this garter stitch simplicity...I needed something more challenging. So I went to the nearest craft store and picked up a book that showed basic techniques and in the back was a pattern for a cabled zippered hoodie I wanted to knit for my baby in the making. Armed with this really sad knitting book from the 70's and some horrible acrylic...I started swatches and graduated to childrens slippers. I soon realized that the hoodie was way out of my league...but yet not unachievable. I eventually knit a little sweater...became hooked on Debbie Bliss Books...and started searches about knitting on the internet. I actually learned many new techniques on internet sites. Of course, I discovered beautiful yarns...and that you can bid for yarn on ebay! The first real knitting site I came across was
Knitters Review
. Interesting. I read the
Knit Picks
Review and ventured on to their site. The
Scarfstyle
book was the kicker. I ordered the book and some yarn...and eventually started the scarves. I loved learning all the new techniques...yet was stumped on some of the chart knitting so I once again turned to the internet. That's when I found the
Scarfstyle KAL
. I discovered a whole new world of KAL's and bloggers. Before long, this sad little blog was born and I became a serious blog stalker!
If you haven't joined a KAL for a particular project you are working on, search for one. They really can help you. You may learn a different technique someone has applied to the pattern that may work for you. It's also nice to see other people finishing the knit and how it looks on them...not just that model in the pattern!
I am almost as addicted to blog reading than I am to knitting! I am out there. I read many knit blogs and sometimes don't always find the time to comment...but I am reading them! I try to comment as often as I can because I know that it is encouraging. It's nice to know that others find knitting as important...as addicting...as relaxing...as challenging...and interesting as I do!
What's a blog enty without a photo...lookie lookie.....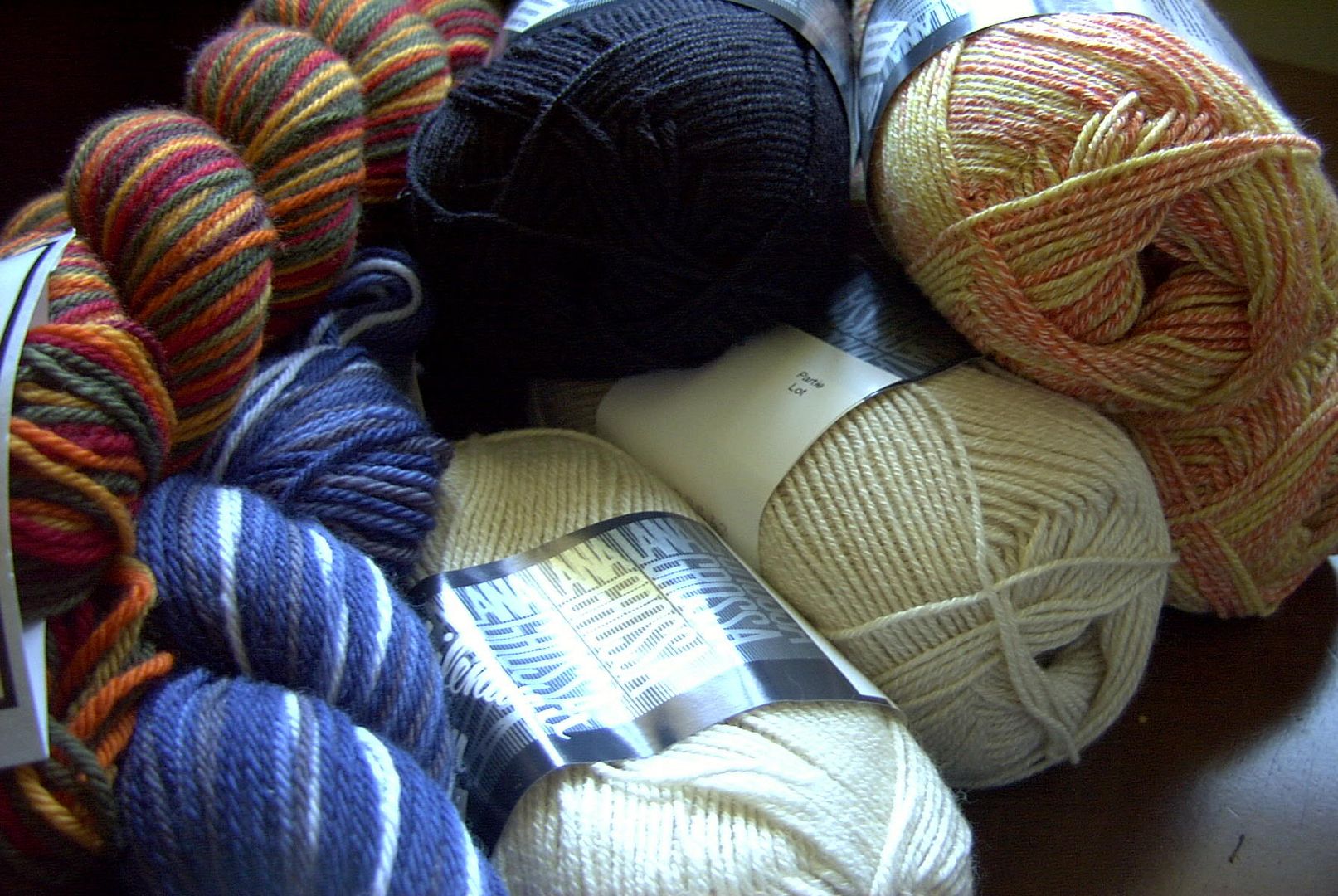 A little order from knitpicks...and some Lana Grossa Meilenweit Cotton....loving this stuff! Hopefully some of this cotton blend will turn into my Sockapal2za socks! I also received Knitting on the Road. There are some great sock patterns in this book...I must get knitting!